Discover Native American Photography As A Perfect Fine Art Investment Opportunity That Will Rocket In Value While Giving You Many Years Of Enjoyment At The Same Time
See Why Two Visionary Photographers Share A Powerful, Unique Print Collection That Lets You Appreciate The Beauty And Strength Of Native Americans Portrayed In The Rugged, Incredible Landscape Of The American Southwest
Carmen Hunter's and David Davis' finely crafted photographic images are available as fine art prints and posters from Facerock Productions. They invite you to come along on a journey that dispels some long-held myths and mysteries. You literaly can come along with them!

What is your perception of Native America today? Maybe you are well versed in American Indian life today—maybe not. You've no doubt seen images of dancers in their finest regalia or actors riding across the plains hunting or ready for a fight. What you will see here is different, sometimes unusual, and refreshing-and is changing all the time. Enjoy the beauty, strength, and serenity of the people and the landscape as you see it in a different light than ever before. Click here to browse the 2012 catalog.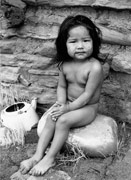 Carmen Hunter's main focus is showing her extended family and her interaction with that community and the area around Canyon de Chelly, Arizona. She is compiling a set of stories from these people she knows best including a collection of children's' stories and games. Carmen is both a guide and photographer of the canyon areas. Click here to read more about Carmen.
David Davis came to the desert country in search of a model for a white elk skin wedding dress over sixteen years ago. He discovered new locations for his masterful portraits along with the Navajo culture that is similar in many ways to the Japan of his childhood. He felt at home and was welcomed here.
Click here to read more about David.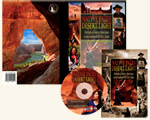 Facerock Production's "Native Faces—Desert Light" DVD show allows people to experience multi-media sensations of these images set to music and Navajo narration.
Click here to see the video.
Owning a collection of these prints gives you the opportunity to feel the timeless truth and strength of both the people and the land. Many people invest in the images for their viewing enjoyment and the knowledge that the values continue to rise. If you are new to collecting photography, you have to read a short report, "The Secrets to Collecting and Investing in Fine Art Photography".
Request this report on the contact page by clicking here.
You also will benefit from your investment knowing that a portion of the profits go to teaching non-traditional students the craft of photography. And, most print values are doubling within the first year because of the demand and the way limited edition pricing is structured.
And, if you are adventurous or just wanting to learn more about the area and the people, you have to come along on one of the many Southwest Photo Safaris. Here you can take your own photos while visiting locations not accessible to most others coming to these areas. If you read carefully, you will see how you can literally be with Carmen or David as they create new images from their long lists of photographic illustrations to create and stories to tell.
When you have questions, just contact us at our office and you will get prompt attention.